CQI-IFPS Instrument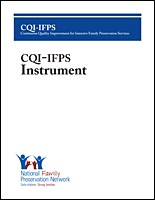 The National Family Preservation Network is pleased to offer a Continuous Quality Improvement (CQI) Instrument for use with Intensive Family Preservation Services (IFPS).
It is critical to maintain and improve the quality of IFPS programs on an ongoing basis. The CQI-IFPS Instrument allows states and contracted providers to determine if they are meeting best practice for IFPS and that includes the safety, permanency, and well-being of children and families. The CQI-IFPS Instrument assists in determining what is currently being done well along with identifying areas that need improvement in the future.
The CQI-IFPS Instrument is grounded in many years of research on IFPS. Each item of the Instrument has been carefully selected.
The CQI-IFPS Instrument and supporting materials include the following:
Introduction (definition, basis in federal law/policy, and purpose of the CQI-IFPS)
CQI-IFPS Instrument (10 domains covering a total of 75 items)
Tally Sheet (checklist for reviewers that allows tallying of up to 5 case files)
Instructions (preparation, reviewing case files, debriefing, using findings to guide improvement in practice)
Frequently Asked Questions
Sample Items from the CQI-IFPS Instrument:
The assessment addressed the family's strengths as well as weaknesses.
Safety was addressed during each visit.
The family was actively involved in setting goals.
The services provided met the family's needs.
The child shows an increase in physical growth and development.
Sample item from the CQI-IFPS Tally Sheet: